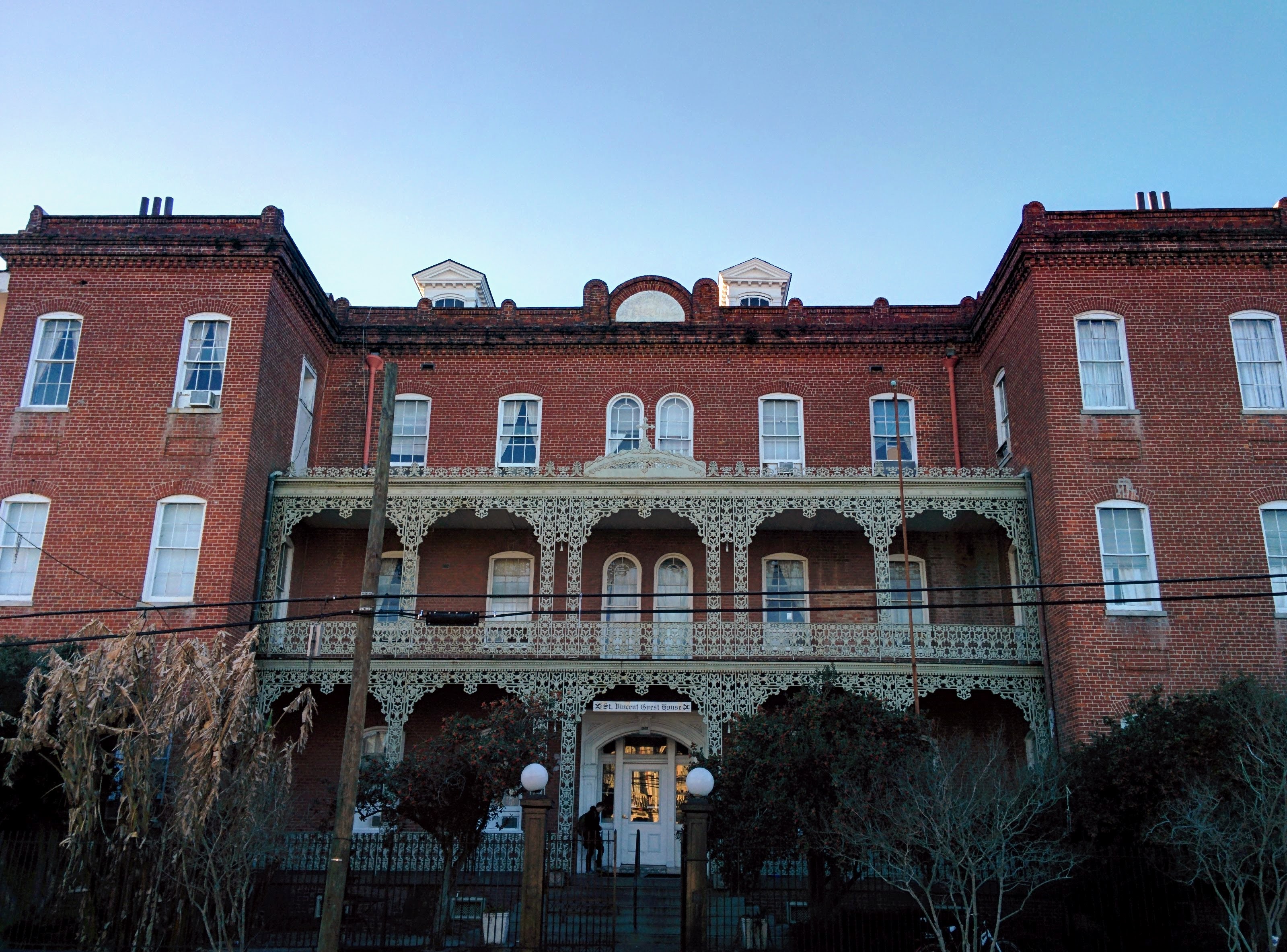 When Lady Gaga tweeted what seemed to be the fifth season of AHS – Hotel, I was taking a short beak from the dreary Pennsylvanian winter down in New Orleans, where I expected it to be warmer and more cheerful. They said New Orleans had a mild and wet winter; when I was there, it was unusually cold for that time of the year (in mid February, 2015) – just a few degrees before snowfall. But the sky was clear and the sun was shining most days. The stronger reason, though, that attracted me to come down there was the big carnival that was going on in town. The one that draws millions from all over the world every year. It's called Mardi Gras. Little did I expect that New Orleans was also one of the most haunted cities in America – and this is yet another spooky story from New Orleans, Louisiana (NOLA).
Because of Mardi Gras, tourist demands in NOLA surge exponentially as the date approaches – those such as flights, accommodations, and transportation, that the city's creaking old infrastructure can barely cope with. It is thus highly recommended that if you are going there for Mardi Gras, you should start planing for your trip very early on (like 6 months ahead) before the prices of everything start to creep up. I thought that I was pretty early when I started planning back in October, but in fact I was not. So when I looked at reasonably-priced accommodation options for the period, the only one left seemed to be the St. Vincent's Guesthouse, a seemingly charming and historic orphanage-turned-hostel located on Magazine St., about half-an-hour walk from the hedonistic French Quarter.
The hostel, marketed as having a character, had a rather rich history. It is a huge mansion built in 1861 as a orphanage by Margaret Haughery, an devout Catholic Irish immigrant who made a fortune in the city from her baking business and later became its foremost philanthropist. Throughout the 19th century, New Orleans had major yellow fever epidemics that killed thousands during the summer each year – because of the swamps surrounding it and because people didn't know then the link between mosquitoes and disease transmission. Mrs. Haughery herself lost her child and husband to the disease and decided to build the orphanage to house the children whose parents died of yellow fever. Since then, the orphanage had had its fate changed hands several times. In the early 20th century, mosquito-borne diseases started to subside since the discovery that mosquitoes were the cause of the epidemics, and the city started to pave its streets and eradicate puddles of standing water. St. Vincent's then functioned as a refuge for unwed mothers and their children by the city's government until social revolutions in the 1960s made that unnecessary. The property then fell into disuse for decades until it was brought back to life in 1994 by a private management as a guesthouse as it is today.
The place is now primarily a budget hostel with a constant flow of young backpackers, hitchhikers and all sorts of lost souls through its wing of dormitories. Some work at the place in one form or another for a discounted or free rent. Some make it their long-term residence because of the cheap daily rent – those who are mostly prostitutes or working transvestites in the Quarter at night. Some make it a cheap crash on a stormy New Orleans night. The stormy night that I arrived there with a confirmed booking, the receptionist told me that my bed in the dorm room had collapsed, and the only choice left for me was to crash on an inflated air mattress in the communal "living" room for the first night, which he would give me for free, until they'd find a replacement for me the next day. Having no options left, I agreed to the offer. Upon opening the door of the communal room, I was appalled by what was going on inside. The room was large and had a decidedly musty smell coming out. Creaking old furniture cluttered everywhere. The wallpaper and floor carpet still had large moldy stains as if a lot of water had gone through them in the last hurricane and nothing much had been done to repair. Empty whiskey bottles littered at the corners. The walls adorned with replicate Rococo paintings made the atmosphere both nostalgic and eerie. But more horrifying were the people sleeping in there.
Near the main door of the room was a half-collapsed couch that had visibly large, dark yellowish stains – the kind of stain that looks like one would catch syphilis by sitting it. Yet, sleeping on it was a old homeless-looking man, who, in his state of half-awake (I probably had woken him up myself) was constantly mumbling and swearing about having two strangers intruding. At the other corner was old man sleeping on a respiratory support machine, who was snoring audibly loud. And another corner was another person sleeping all covered up from top to bottom like a corpse, and next to him were some spilled bottles. All of that made the scene look like a creepily bizarre blend of a homeless shelter and a hospice. The air was both thick and humid, yet felt eerily cold.
The receptionist was kind enough to pumped up the air mattress for me and put it on a tiny, squeaking bed frame that was available in the room. He then threw me a couple of "clean" scratched towels and bedsheets with holes and a blanket to comfort my long and cold night ahead. Chills were running down my spine when he left his shift at midnight, turned off the lights and locked the doors. At the same time, I was also too exhausted after a long day, so I fell asleep quickly.
A few hours passed and I was deeply asleep on the inflated mattress, I suddenly felt the movements underneath and the creaking noise from my bed as if someone was shaking it violently. I woke up, opened my eyes, and in my surreal state of half-awake, I saw a female figure right on my bedside. She was a black girl whose face was hardly recognizable, but what was conspicuous in the dark were the glowing neon necklaces, bracelets, headgear, or whatever ornament that she was wearing. I was seriously terrified and, for a moment of panicking, I believed the ghastly, glowing figure was a ghost… Perhaps the ghost of Marie Laveau? Was she gonna kill me? I uttered a loud scream out of desperation. It was so loud that it frightened the "ghost" herself. She started to speak to me in English, consoling and apologizing for rocking my bed. It was then when I got back my sanity, assuring myself that she was indeed a harmless human being and listened to what she was saying.
The girl insisted that I was sleeping on the wrong bed! And that the bed was reserved for her by the hostel staff. Ridiculous! Especially with all the alcohol smell that was profusely coming out of her breath. She was obviously too drunk to make sense of anything. I also learned from her that all the glowing ornaments were part of her Mardi Gras costume. Of course, I protested and refused to give up my bed to a random drunk person who just freely walked into a private property (whose doors had supposedly been locked) and claimed a place to crash. She then walked away and crashed somewhere in the filthy corner of the room on another inflated mattress that she had found herself. I quickly surveyed the room, and not far from me was another random (drunk) person curling up in his sleeping bag on the floor. I then asked myself if this was the place where any random drunk person could just come in and crash? Were the doors even locked at all? Is it secure for me to stay here with all of my belongings? I was again too tired to make any sense of what's going on and fell back to sleep into the chilly night.
The morning after, when a nicer receptionist took shift, I told her about the horrifying night that I had endured. She embarrassingly apologized and swiftly arranged for me a dorm room that was nicer (and had fewer people) than what I had booked (and also far away from the creepy living room) with a functional bunk bed. Still, the "blankets" she gave me were a couple of torn towels that could barely cover my entire body. And because the whole mansion had no heating system of any form (except for the shower), over the next few nights, I learned the hard way that New Orleans did have a proper winter by curling up through the shivering cold nights.
The next few days, I couldn't help noticing the peculiar decor of the entire mansion. The walls were painted in bilious purple. Most curtains didn't come close to covering the entire windows. The hallways were lined with fine, polished bronze sculptures, often of bizarre forms – as if Thomas Randolph Morrison displayed all of his bronze work at St. Vincent's. Vintage photographs of the orphaned children who used to reside there (together with their caretakers) creepily adorned the walls – some depicted odd activities such as having their tooth pulled out. At night, I often heard ambiguous children's voice giggling or footsteps in the empty hallways. When I told the receptionist this, she showed no surprise and said that those were the playful spirits of the kids who died of yellow fever here – we just needed to respect them and let them be.
Its exterior was no less interesting. A huge gargoyle was found hanging on the clocktower – not the kind of stuff you'd see hanging off the Hilton. Large exterior corridors and high ceilings typical of Southern plantation homes ran through the mansion as its main passageway. The small pool in the courtyard was always covered in black plastic. There was a large white sculpture of Virgin Mary in the middle of the garden that looked particularly eerie at night under the dim streetlight and when the wind blew over the willow tree casting shadows on it. This place definitely had a character inside out.
During my stay at there, I also made friends with those sharing the dorm room. Two of whom were Brazilian and Italian academics who were attending a renowned International Studies conference going on in town at the Hilton. I learned from them that because the conference happened to coincide with Mardi Gras, skyrocketed hotel prices had forced them to stay at St. Vincent's. Another one was a vagabond from Wisconsin, who had stayed at the hostel before last Halloween and decided to come back because he seemed to like its "character".
In retrospect, I did have an interesting stay at St. Vincent's, except for the incidents on the first night. The rest of the nights went by with no major issues. I made friends and had nice interactions with the "lost souls" in the hostel – some were transvestites, some used drugs, some were just free-spirited and had a lot of fun on Mardi Gras. The majority of them were young people going to Mardi Gras. And just like me, and they didn't care much about the comfort, security or cleanliness – they just wanted the best bang for their buck. St. Vincent's satisfied their basic needs of having a place to crash and hot shower after a long night of hard partying. Plus, its location was just a walk away from the heart of the scene. I eventually started to like the place and its character. Just like New Orleans, St. Vincent's is more than meets the eye. It is old and messy, yet possesses a hidden charm. (Not to mention the staff there were exceptionally helpful and friendly.) It takes time to appreciate; and once you do, you'd understand why New Orleans is America's most haunted city, but is also one of its most favorite.
Also check out my photo essay of New Orleans, St. Vincent's and Mardi Gras 2015.